They have just 17...You know what I mean...
Updated: Oct 3
Tom & Laura,
I be wishin' yer a Happy 17th Anniversary on this fine mornin' (Readers, He's a givin' yer a bunch of Irish blarney...It's a typically dreary, drizzly, overcast September day here in the East End section of West Hempstead)
NOTE: From here on in, I'm dropping my phony British accent out of respect for a hero of old who freed the land from evil despots (i.e., "TAX MEN")...Click here to hear and marvel at his courage in the face of death.
My wee attempt at feigning knighthood was because when I looked up the origins of the name "Stephenson," I learned that some of your ancestors might have come here from England, Ireland or Scotland. And possibly some arrived on the...
"She was just 17...You know what I mean..."
As is my custom and that of my namesake Tommy Tune, I like to include a song or two in my missives. So, let's get right down to it...
The Beatles - I Saw Her Standing There (Ed Sullivan Show NYC#1 (Colorized Clips) (00:20)
I saw her standing there - The Beatles (LYRICS/LETRA) [Original] (02:56)
Now, let's change partners...and genders..and a REDHEAD at that!!!
Tiffany - I Saw Him Standing There (04:09)
Now, let's go back in time to discover some inspiration for this song...
Now, space travel is tricky...filled with comets (especially on Christmas Eve), meteors and lots of random space debris (courtesy of mankind). Therefore, we'll be taking this trip in stages...
First stop: 1955...
Back to the Future Tribute -- Back In Time Music Video HD HQ (04:51)
Can't use the DeLorean...hasn't been invented...So, for an alter-Uber, I'm going back to childhood...not mine but our son John's...WAY BACK...
Our ship is commanded by Peabody & Sherman...
MR. PEABODY & SHERMAN - Extended Trailer (02:53)
1874...Naw...not far enough...
Early 1800's...
According to the lyrics site Genius.com, Paul & John drew some inspiration from an old English folk song: "Seventeen Come Sunday" a.k.a., "As I Roved Out."
Early broadside versions were sad songs focused on the abandonment of the girl by the young man. Later broadside and traditional folk versions celebrate a sexual encounter. A censored version published by Baring-Gould and Sharp substitutes a proposal of marriage for the encounter. Source: Wikipedia
Now...
Fairport Convention - Seventeen Come Sunday (02:50)
At the end, when being interviewed, did you can the singer's witty remarks about another English folk song in their arsenal. He said that because it had so few verses, they had to "leaven the bread" to make it longer...
Sounds like these other UK blokes:
"It's a thousand pages, give or take a few
I'll be writing more in a week or two
I can make it longer if you like the style
I can change it 'round and I want to be a paperback writer
Paperback writer"
"Sitting in an English garden..."
The Beatles - Paperback Writer (02:29)
"There's a Grateful Dead song for every occasion..."
While I've included many songs from these folks, I just started creating a special HEADing for them. While they echo my beliefs that there isn't any life after DEAD, they come from a friend and fellow V Dub owner and Deadhead - Steve - who also happens to be the guy that first taught me to "play with cars" (fix 'em) and this became my career path. Thanks, Friend!
First connection came when I saw these words on the wall behind the band:
"Who knows where the time goes..."
These timely words have inspired many artists like Nina Simone, Judy Collins, Fairport Convention, Eva Cassidy, Sandy Denny and, Yes, the Grateful Dead. Read on to learn more...
"Heeeeer's Jerry!!!" (imitating Carson's sidekick: Ed McMahon)
And on a magical night: Halloween Plus, at Radio City Music Hall - where Uncle Mike once worked...
Grateful Dead : Uncle John's Band @ Radio City 10-31-80 (08:19)
On this the 17th Sunday after Pentecost..."Ite, Missa Est"
Today's Gospel reading is about the Laborers in the Vineyard...Hmm...I heard that G-d's a UNION gal/guy...Even into Mystical Unions...When I fixed cars at Avis, I was a dues-paying member of Machinist's Union Local 917...This week's story reeks of unfair labor practices...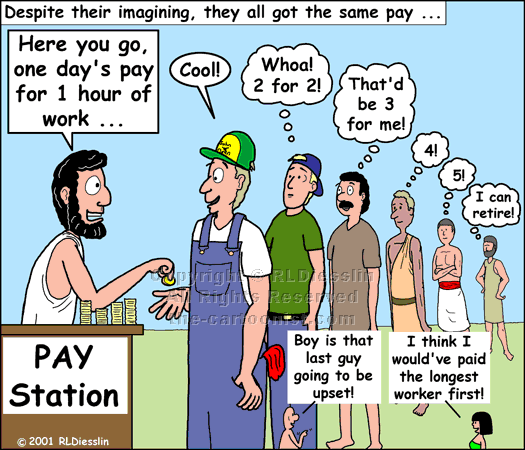 I went looking for a job on 7th Avenue...Opps...I went looking for a meme that had the same words as this one below...But, couldn't find it....SO, I made my own - a new and improved one with the added jam jar image...It's a favorite among Dancing Bears...
Grateful Dead Perform Longest Song Of Their Career, On This Day In 1974 [Listen - 46:43] - Live for Music (May 21, 2023
--article includes links to ALL the songs, including that longest one...
A notable connection...in that the song was "Uncle John's Band" - the one that includes the lyrics: "Who knows where the time goes..."
This article was also posted on my sister Peggy's birthday...Peggy is Laura's Mom.
Coffee Hour: WARNING! The buck and the collection plate don't stop here either...
Taxman -- George Harrison and Eric Clapton (live) (03:57)


Remember, Election Day is just around the corner...
Property Taxmen: The Real Criminals in Nassau County
The Ides of April - Time to give it to Caesar
Another connection...your name...St. Stephen's son...
GD & G-d: Grateful Dead & Bible - Chapter 1: St. Stephen (feast day Dec. 26)


After the kids go to bed...
Tom, your daytime job as a steamfitter prompted this final number. Fittingly, it features a UNION theme and pajamas...
The Pajama Game - Steam Heat (04:33)
#music #humor #Tom #Laura #Peggy #Beatles #Tiffany #BackToTheFuture #PeabodyAndSherman #FairportConvention #taxes #unions #Tanman #ThePajamaGame #NassauCounty #GeorgeHarrison #EricClapton #RadioCityMusicHall #JohnnyCarson #EdMcMahon #Bible #SaintStephen #JerryGarcia